What cosmetics to use and when is the best time to perform bridal bake-up?
Before or after a hairdresser visit?
Women preparing for their wedding keep asking themselves such questions. Obviously, make-up has to be done after stylizing hair. To demonstrate, bridal make-up cannot be performed before curling the hair or pining hair decorations because it may be wiped off. What is more, during washing hair, the hairdresser might simply wash down the make-up foundation, eye shadows and lead to false eyelash coming off. It is way, it is easier to stylize hair first and then apply make-up.
In the morning or right before the wedding? Here is yet another question that rankles wives-to-be. If you have your make-up done too early, it may simply run down your face and does not hold up to the ceremony. On the other hand, if you wait with your make-up for too long, you may not manage to put on a wedding gown on time, welcome the groom and his parents. Consequently, you may be late for your own wedding.
What cosmetics to choose for bridal make-up performance?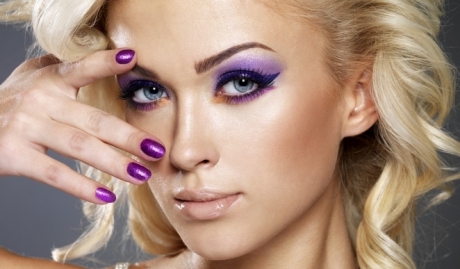 Basically, such cosmetics must retain several features. Firstly, the quality. Certainly, cosmetics of high quality hold better and longer on a face. Furthermore, these will survive the night of dances and plays. After all, any bride would like her mascara to land on cheeks and lipstick to be completely vanished. Secondly, the degree of camouflage. If you have got acne skin, dark circles around eyed or scars and discolourations, pick such cosmetics that manage to hide all the imperfections. You can choose natural make-up as well. In such a case, use light cosmetics of shades similar to your skin tone. Thirdly, properties. Match the cosmetics with your complexion needs. Sensitive skin requires mineral and loose cosmetics. Moisturizing products do wonder for dry skin. If you have oily skin, always keep near you mattifying films.
Bridal make-up with purple smoky eyes effect – D.I.Y.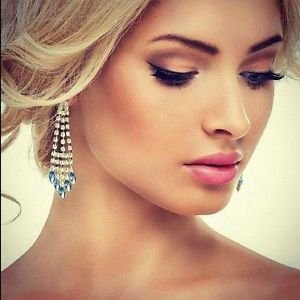 Perform your own bridal make-up and do not waste time on beautician's appointment. Cover your eyes with smoky eye style, however, use purple shades. Let us start! Apply on your face transparent make-up primer Smashbox. Thanks to it, your cosmetics will hold better. Time for the lips. Apply Carmex, a moisturizing lip balm. Now, reach for MAC make-up foundation of shade matching with your skin tone. Take a big and flat make-up brush and stamp the face to distribute the foundation. Now, time for MAC concealer that covers dark circles under eyes. This product, in turn, should be pat into the skin to prevent marks formation. Fix the make-up with Kryolan powder.
Time for eye make-up. Start with marking eyebrows' shape with either an eyebrow pencil or shadows. When it comes to eyelids, both upper and lower ones, cover with Bobbi Brown Long-Wear Eye Base and mark water line with a while eye pencil. Apply écru eye shadows on the inner corners of the eyes. Now, take a black eye Kohl and paint an eye line on the upper and lower eyelids, and then, smudge it with a brown eye shadow, heading towards the outer corners of the eyes. After that, apply a purple eye shadow, in such a way, to make it cover only a half of your eyelids. Now, put a pale pink cream eye shadow on the remaining part of the eyelid. Thanks to the consistency of the cosmetic, your skin will be radiant. Next, apply false eyelashes and cover these with Max Factor 2000 Calorie mascara. Reach for a bronzer and shape your face by applying the cosmetic on cheekbones and top of forehead. With a blusher, mark your cheeks, then outline your lips with a bright pink lipliner and apply a lipstick from Dior of similar colour.
Your bridal make-up with purple smoky eyes is now ready!